How To Use The All-In-One Earwax Removal Kit by HealthDevice?



Remove Earwax Blockage and Prevent Wax Buildup



Earwax buildup is a recurring problem and it can cause earaches, infections, hearing loss, and other problems. Ear wax buildup and blockage often happen when people use items like cotton swabs or bobby pins to try to clean their ears. This only pushes the ear wax farther into the ears and can also cause injury to the ear.
Swimmer's ear, also called otitis externa, is an infection in the ear canal often related to water exposure, or cotton swab use.
Why Is It Dangerous To Use Swabs To Remove Earwax?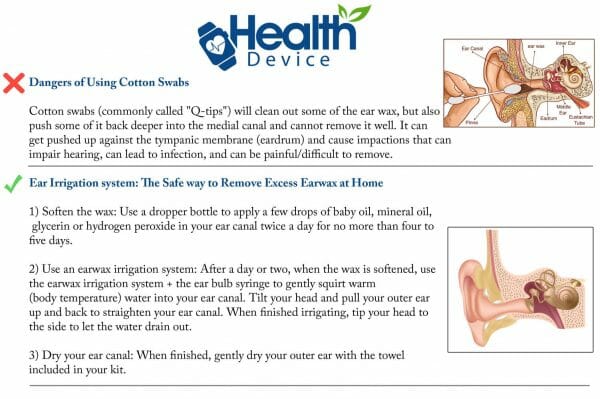 Earwax blockage is one of the most common causes of hearing loss. This is often caused by attempts to clean the ear with cotton swabs. Most cleaning attempts merely push the wax deeper into the ear canal which is shaped like an hourglass, causing a blockage at the narrowing part of the ear canal. In addition, accidental trauma to the eardrum or ear bones can occur if the swab is pushed too deep.
According to the American Academy of Otolaryngology, ear irrigation or ear syringing is commonly used for cleaning and can be performed at home using an ear irrigation kit and It is a better solution.
Why Use the All-In-One Earwax Removal Kit by HealthDevice?
This kit is designed to safely remove the earwax and clean your ear canal. You will be able to apply the same ear irrigation procedure used by doctors at the comfort of your own home at a very affordable cost - no more expensive doctor visits for earwax removal. Ear irrigation or flushing is the best way to flush excess earwax and prevent the growth of bacteria and fungi.
Just like what doctors use, this comprehensive kit comes all the tools needed to soften earwax, remove earwax, and clean the ear canal effectively at home. When doctors remove excess wax they often use a small curved instrument called a Curette and they also flush out the wax using a water pick or a rubber-bulb syringe filled with warm water.
The All-In-One Earwax Removal Kit by HealthDevice comes with all of these components. It is a complete ear irrigation system that fits your bill.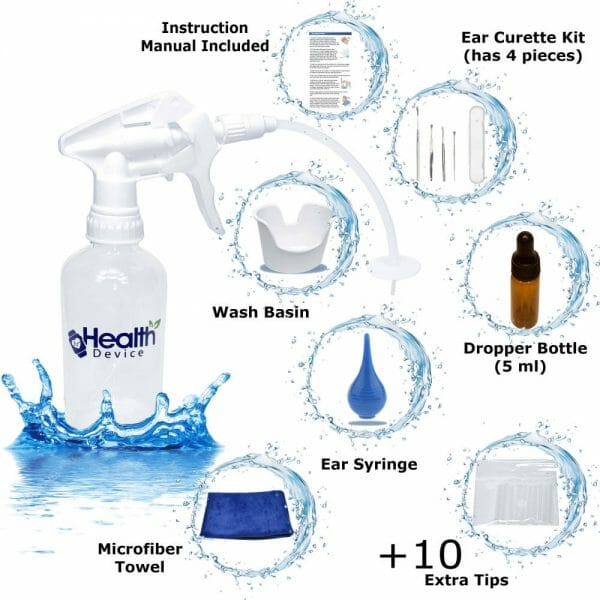 What's included:
Ear Washer Bottle 12 oz
Wash Basin
Microfiber Towel
Ear Bulb Syringe
Dropper Bottle 5ml
Ear Curette Kit (4 pieces)
10 Extra Tips
Step-by-step Instructions Manual
This Ear Irrigation Kit will help you:
Improve your hearing and prevent ear Infection
Soften earwax for easier removal
Remove ear wax blockage and prevents wax buildup
Get relief from ear itching
Experience swimmer's ear relief; prevent the growth of bacteria and fungi
Exfoliate your ears to reach dry-skin areas
Have the best alternative to cotton swabs and ear candling
Features:
Unique Safe Design: This spray bottle is designed to stream a safe water pressure to your eardrum; providing enough water stream to clean out the wax.
No Leak Sprayer: Better trigger sprayer design that fits in your hand comfortably, eliminating hand fatigue throughout the entire ear cleaning procedure.
Clear High-quality Bottle: can be easily filled with an earwax-softening solution or warm water.
Medical Grade Flexible Tube: gives you the flexibility to maneuver the tip in different angles to loosen up the earwax while pumping the spray handle on the bottle.
Soft Adjustable Tips: Tips can be easily trimmed with a scissor in case of any discomfort or in case of using on children.
Earwax Curette Kit: Has 4 unique stainless steel earwax picker tools. Each piece has a unique shape, perfect for removing earwax, massaging ear canal, and cleaning nose as well.
Rubber-Bulb Syringe: Used to gently squirt warm water into your ear canal to rinse out any excess wax and to suction out water.
Dropper Bottle: Can be filled with an earwax-softening solution such as carbamide peroxide 6.5%, baby oil, mineral oil, glycerin, vinegar, or hydrogen peroxide to soften the earwax before ear irrigation.
Wash Basin: Used to collect any overflowing fluid.
Microfiber towel: To be placed over your shoulder and to dry any water after the ear cleaning procedure.
The All-In-One Earwax Removal Kit provides a complete, easy, and effective ear irrigation system at home for adults and kids.
No Hydrogen Peroxide Solution Needed
Simply fill the sprayer bottle with warm water and spray into your ear to soften earwax instantly. If desired, you may add a few drops of baby shampoo to the water and mix well before using. Alternatively, you can fill the bottle with any earwax-softening solution such as carbamide peroxide 6.5%, baby oil, mineral oil, glycerin, vinegar, or hydrogen peroxide 3%. For maximum effect, you may use the dropper bottle to add a few drops of that solution into your ear canal 15 to 20 minutes before irrigation.
100% Satisfaction Guarantee: We are sure you will love our product. For any reason you are unsatisfied, please let us know. We will replace it or refund your money back within 30 days.
Order your All-in-one Earwax removal Kit Now