What are Commode Chairs?
Commode chairs are a type of portable toilet that combines the functional aspects of both a chair and toilet, providing an adjustable seating option for those who may have difficulty using a standard toilet. Commode chairs are typically constructed from durable materials and feature armrests, backrests, and footrests that enable users to adjust the chair's height to their preferred position.
Unlike standard toilets, commode chairs are not a permanent fixture in the bathroom and it is not hooked up to the building's plumbing so they can be easily moved, stored, and transported. Commode chairs don't have a flushing mechanism, they need to be cleaned after use. However, this can be easily done using commode pail liners which are economical, ultra-absorbent, and hygienic.
Shop the best commode chairs, commode pail liners, and commode accessories high-quality from the most reputable brands including DriveMedical, Carex, and ProBasics.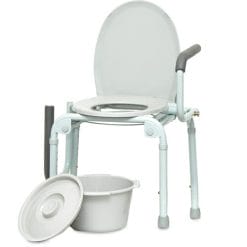 Out of stock