PediFix Visco-GEL Arch Support Wrap has a soft comfortable gel pad and a stretchable strap to support flat feet and fallen arches. It instantly relieves heel pain, Plantar Fasciitis, and arches pain.
Visco-GEL is an elastic gel formulated in the United States that is extremely stretchy and does not tear. Visco-GEL Arch Support Wrap is diabetic-friendly and offers greater foot protection than silicone. It has some unique features:
1) The soft, semi-solid material conforms perfectly to the curves and contours of the foot.
2) It absorbs friction, pressure, and impact and helps the foot bounce back.
3) It releases vitamins and oils to nourish and soften the skin, and helps to heal rough, dry, and cracked skin. It also helps in reducing the appearance of scars.
Experience the difference with the USA formulated Visco-GEL as it cushions, protects, separates, aligns, and absorbs pressure, and reduces friction offering an overall comfort.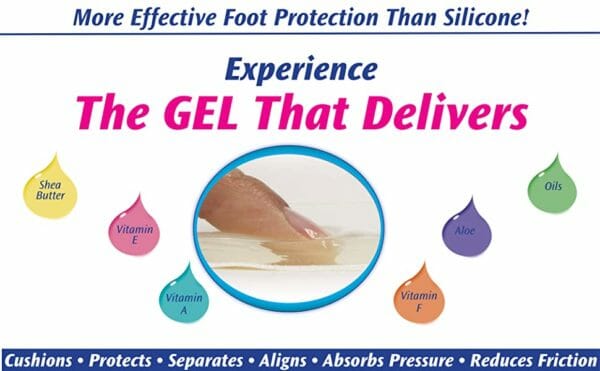 The soft silicone Gel cushion is positioned under the arch with stretchable fabric and hook-and-loop closure. It can be worn barefoot, under socks, or over socks. Designed to fit comfortably in most footwear. Easy to clean (hand wash) and reuse. Interchangeable for the left or right foot.
PediFix Visco-GEL Arch Support Wrap main features:
Relieves Heel Pain and Plantar Fasciitis
Designed to support flat feet and fallen arches
The strap is stretchable and has a soft gel pad for comfort
Supports the heel and arch of the foot
The fabric is stretchable and has a hook and loop closure
The socks can be worn under or over socks, or barefoot
Thin design that fits comfortably in most shoes
Easily washable, reusable, and durable
Interchangeable for left or right foot
1 piece per package
Directions:
Position the gel pad so that it rests comfortably in the arch of the foot. Pull the straps over the top of the foot and secure the straps. Adjust as needed and ensure a comfortable fit. Trim extra strap ends as necessary. PediFix Visco-GEL Arch Support Wrap is suitable for wearing over socks or directly against the skin.
Care instructions:
Hand-wash the arch support wrap with warm water and mild soap. Rinse well and remove excess moisture by pressing flat in a towel. Allow to completely dry before reuse.
Warnings:
If you suffer from diabetes or poor circulation, you should consult your physician before using this product. Do not apply to an open wound. Avoid contact with eyes. If irritation, discomfort, or poor circulation occurs, discontinue use immediately.
Sizing:
PediFix Visco-GEL arch support wrap is stretchable and adjustable. It comes in two sizes as follows:
Size small can fit narrow to average width feet (approximately 8 3/4 inches wide before stretching).
Size large will fit feet that are wider than average (at about 9 3/4″ width before stretching) or individuals with bigger foot sizes.
Included: 1 piece per package (order two for both feet).