The Pedifix Visco-GEL Hammer Toe Crutch relieves pressure at the toe tips, enabling you to walk and stand comfortably. Specifically designed for individuals with hammertoes, claw toes, corns on the toes, or sore toe tips, this gel cushion provides comfort while elevating and reducing distal pressure for better biomechanical function.
The soft, wide loop keeps the cushion firmly in place while hydrating and softening corns. Flat bottom provides greater comfort while standing or walking. The toe cushion also operates as a separator and cushions between the toes. Just slide over your toe and position where you are most comfortable.
With a specially contoured Visco-GEL pad, toe tips can be lifted to relieve pressure off bent-under toe tips. The soft gel pad support makes walking easier and shoes more comfortable while protecting and soothing toe-top corns. Additionally, it's easy to clean, reusable, and durable. Hand wash and air dry. Available in three sizes: small, medium, and large. Two pieces are included in the package (one for each foot).
Visco-GEL Hammer Toe Crutch – More effective toe protection than silicone
The specially formulated US Gel cushion is designed to ease pressure on toe tips while diffusing vitamins and oils that soothe and soften the skin to prevent rough, dry, cracked skin, heal rough, dry, and cracked skin, and improve the appearance of scars as well.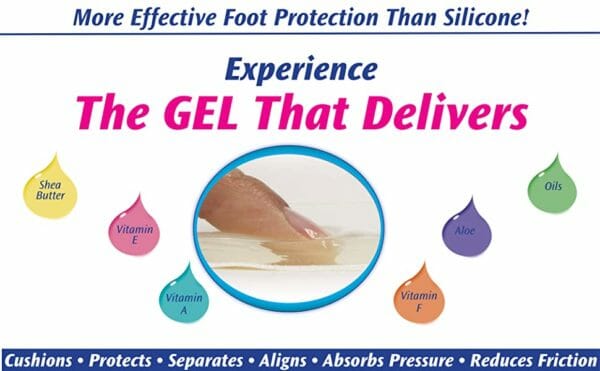 Introducing Visco-GEL, a proprietary, diabetic-friendly visco-elastic polymer that has unique special properties.
Due to the semi-solid nature of this material, it conforms perfectly to the contours of the foot.
It absorbs friction, pressure, and impact, helping the foot recover quickly.
It diffuses vitamins and essential oils that nourish and soften the skin, healing rough, dry, and cracked skin with hydration therapy and even helping to improve the appearance of scars.
The USA-formulated Visco-GEL offers excellent stretch without tearing.
The Pedifix Visco-GEL Hammer Toe Crutch main features:
Relieves pressure by lifting the toe tip
Cushions and helps to prevent corns on the toes.
Designed to relieve pain from hammertoes, claw toes, top corns, and sore toe tips.
Specially contoured to support claw and hammertoes.
Visco-Gel softens and soothes skin.
It helps prevent hammertoe surgery.
Help make walking easier and more comfortable.
Can be easily washed and reused.

Directions – How to use Pedifix Visco-GEL Hammer Toe Crutch
The Visco-GEL pad is designed to be worn on the 2nd, 3rd, or 4th toe. Slip the contoured pad over the toe and position it to elevate the toe tip and support it. Position gel loop to protect 'knuckles' at toe-top and adjust as needed for comfort fit. In order to achieve the best results, avoid wearing footwear that restricts toe movement or interferes with comfort.
Care Instructions:
Handwash with warm water and mild soap. Allow to air dry completely. If your gel pad becomes tacky, sprinkle with talcum powder.
Warnings: 
Consult your physician if you have diabetes or poor circulation. Do not apply Pedifix Visco-GEL Hammer Toe Crutch directly to open wounds. Avoid using the product if numbness, irritation, discoloration, or additional pain occur. Consult a foot specialist if symptoms persist. It's recommended to remove for at least four hours each day.
Sizing:
Small is 12.5 mm in diameter (gel toe loop is 28 mm length), Medium is 15 mm in diameter (gel toe loop is 32 mm length), and Large is 20 mm in diameter (gel toe loop is 37 mm length).
Included: 2 pieces per package.